Our Services
Truckload
---
Intermodal
---
Logistics
Drivers Wanted
Denton employs only excellent Class A CDL drivers
Join our team of professional drivers.
Denton Transportation
Use our load board
to find available freight
Fuel Surcharge is currently 40%.
Welcome to Denton!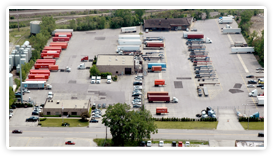 Denton Cartage, a midwest shipping company, is a full service intermodal trucking company, serving the 48 lower States. Denton is known throughout the industry as the "Problem Solving Company," and for good reason: Denton Cartage tackles intermodal challenges with knowledge and expertise acquired by years of experience. By using state of the art equipment operated by experienced office and delivery personnel, Denton is equipped to meet your transportation needs. Denton delivers results, focusing on saving time while effectively managing costs.
Based in the Chicago market, Denton provides local cartage support, emergency over the road service, and empty repositioning. Denton excels at the more complicated movements, hazardous materials, heavy loads and over size loads. With over 60 tractors and 100 chassis, including a wide variety of specialty chassis, Denton has what you need to move your materials, machinery and goods. We have the know-how – we have the resources – and we are ready!